Earth Honor is the eighth science fiction novel in the Earthrise series by author Daniel Arenson. We call them gray. They hide in the dark. They kidnapped us and tortured us. Thousands of their disks strike the Earth. Our army collapsed. Marco Emery. Addy Linden. Einav Ben-Ari are heroes from humanity, names everyone on Earth knows. Around the hero, humanity will gather. Under their leadership, we will fight, win together.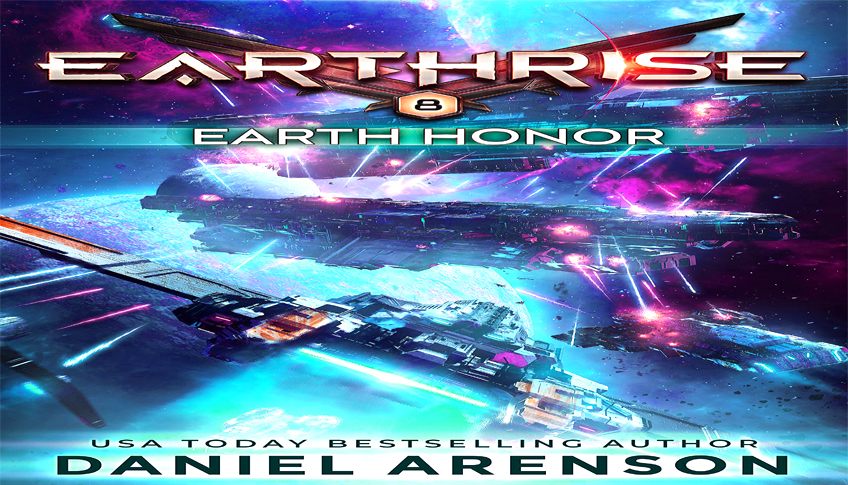 We invite you to listen to this fascinating story. Here are the top 3 reviews and comments that readers love about this fascinating book.
Review 1: Earth Honor – Earthrise Book 8 by M. Trail
Much better than the last one
I had lost hope with the last book… See what I did there? But this book was good. Ben-Ariv is back and awesome. Marco is a good guy making good decisions and Addie is funny and not annoying. She is good with
Marco and they seem to make a good team. Lailani is as awesome as ever. Her decision making is questionable but I can see her perhaps being at odds with the group in the future whether being a proponent of cyborgs or with scum hybrids one day. Just a feeling. They are still out there right? And she is a queen. Good set ups in this story and finnaly the characters show why they are heroes. Not whining broken things that have lost caveman on the tarmac, Elvis and sheriff, beast and the tunnels of Corpus. The emperor in the fires of Abbadon. See what I mean. You've heard it all before if you've made it this far. I love you Addie and Lailani and Cami and I'm sorry for hurting you and to all the girls… Blah blah Marco. I'm glad he's into deep wellness. God bless that elephamt. Now who's up for some hotdogs. I know I am
Review 1: Earth Honor – Earthrise Book 8 by David
Amazing book
This is my favorite of the series thus far. I enjoyed the part about deep being as I practice mindfulness and am a therapist I found this part to be accurate and shows how it can help those suffering from ptsd and other mental health issues.
Review 1: Earth Honor – Earthrise Book 8 by J. Young
I want to like it!
I don't know, I really want to like this series, but I think there is such a thing as too much character development. 90% of this book has nothing to do with the war with the Gray's. It is about the main characters off on there own journeys. I realize that it is probably setting up for the next book, but it is still frustrating. I think what frustrates me is that this series doesn't need to be 9 books. If the author did it in 4 or 5 longer books, rather than 9 shorter, then I don't think I would be as upset about it. It just feels like I should not have to use 9 credits for this series. The way book 8 ends is, in my opinion, terrible. The story should have just continued instead of ending. That being said, it isn't just this author who stretches these series out more than they should be. It is becoming more and more common, unfortunately!
Audiobookss audio player
Hi everyone, please be noticed that the Audio player doesn't play next track on IOS version < 15.6. If you are facing that issue, just upgrade your IOS to version 15.6 to fix it. Enjoy!