Man Overboard is the 12th novel in the Ali Reynolds series by author J. A. Jance. This is a New York Times bestseller. Roger McGeary is a brilliant software engineer who gave himself a luxury excursion in honor of his 40th birthday. When he fell to his death from the balcony of the state room, the incident was declared a suicide. Only his daughter asked Ali Reynolds to re-investigate the case.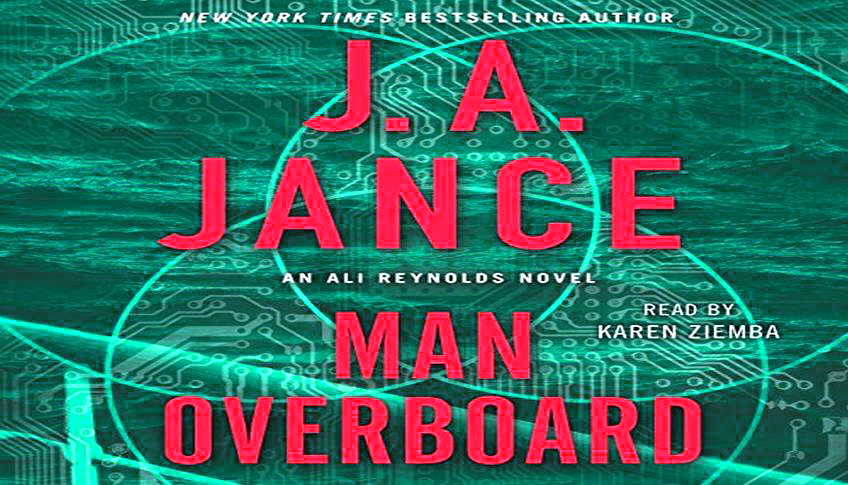 Here are the top 3 reviews and comments that readers love about this fascinating book.
Review 1: Man Overboard – Ali Reynolds Book 12 audiobook by Jean
Imaginative
High Noon employee Stuart Raney is contacted by the aunt of Roger McGeary, a former high school friend and fellow misfit computer geek. She asks him for help to find Roger's murderer. Apparently, Roger fell or was pushed off a luxury cruise ship. The authorities call it a death by misadventure but his aunt insists he was murdered. B Simpson and Ali Reynolds agree to help the aunt. Owen Hansen, a recluse obsessed with suicide, has hacked a psychotherapist patient data base and is tormenting patients/victims. Ali has to figure how all these ties together and solve the murder.
The book is well written. The book features Stuart and B and their computer expertise more than prior books. The plot contains information about artificial intelligence which was interesting. The suspense builds throughout the story and the pace is steady. Enjoyed the trip around the Monterey Bay area that Jance provided. There were two educational topics in the book one on suicide the other about artificial intelligence.
I read this as an audiobook downloaded from Audible; the book is almost 11 hours long. Karen Ziemba does a good job narrating the book. Ziemba has narrated the entire series.
Review 2: Man Overboard – Ali Reynolds Book 12 audiobook by Sylvia
10 minutes was too much
One of the worse narrators I have ever heard. Wooden reading, nasal voice, and pauses in wrong places. Jance usually writes interesting, intelligent books. The Ali Whatever is not my favorite but the Joanna Brady books are great. I couldn't give this one a chance because of the awful reading.
Review 3: Man Overboard – Ali Reynolds Book 12 audiobook by Jordi Anzik
Surprisingly BAD
Up to now, I have enjoyed the Ali series. After several failed attempts, I was unable to finish this it was so boring. Most likely will not be purchasing Ali series in the future.
Audiobookss audio player