Prince Lestat and the Realms of Atlantis is the 12th book in The Vampire Chronicles series by author Anne Rice. The vampire Lestat de Lioncourt is the leader, the hero who inspires the irresistible fighting spirit, possessing the immortal body and soul of Lestat.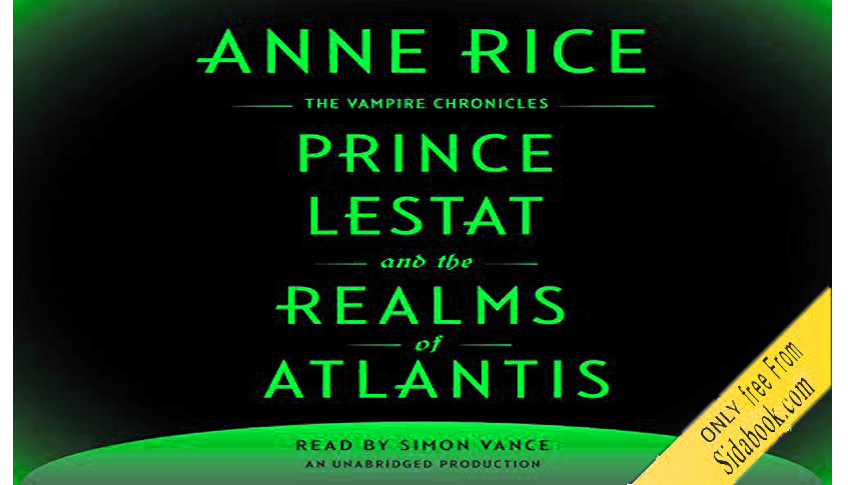 Here are the top 3 reviews and comments that readers love about this fascinating book.
Review 1: Prince Lestat and the Realms of Atlantis audiobook by Eva Gannon
Needed A Good Editor
This book needed a good editor to prune a lot of excess verbiage. There are about three hours (could be more, it was mind numbing) in the middle of the book devoted to highly detailed – and often repetitive – descriptions of Atalantaya. These descriptions did nothing to advance the story and next to nothing to flesh out the characters. After the fourth detailing of a particular feature, such as the building material, I wanted to write a letter to Rice's editor and suggest more stringent review.
The story itself blends the usual vampire lore with a generous dollop of straight up science fiction. Basically, there are extraterrestrial aliens among us, and they may – or may not – present a threat to the familiar vampires. Certainly they intended to threaten life on earth as we know it. The book's promo was more interesting than the story itself.
Lestat is a much tamer version of himself. Louis is more of a sycophant. Marius reverts to the Roman general he once was. Yawn.
Simon Vance adopts a number of accents for the various characters. With limited success. He appears to be trying a Southern drawl for Louis, but it's neither accurate nor consistent. Lestat's French accent is similarly thin. Not sure what's going on with Marius, or Seth. Or Farid; this character needs a distinctive voice, but didn't get it. This book doesn't seem as skillful a narration as some of the earlier books.
I considered not finishing the book. At 17 hours, 13 minutes, it's longer than most audiobooks. Even with the two hour edit suggested above, it's too long. Rice could have told the story in a more engaging manner had she trimmed the fat. Perhaps its time to end the saga; that could certainly be done given the ending of the book (no spoilers). Still, it's the Vampire Chronicles, so I forced myself to finish.
I'm thinking about returning it for my credit, that's a good summary of how I felt about this book. Sad, given how eager I was to read it.
Review 2: Prince Lestat and the Realms of Atlantis audiobook by Liberty
Don't Miss This Masterful Modern Morality Play!
Whether you are an Anne Rice fan or not, this riveting story painted in lush, eloquent prose brought to life in a magnificent performance by Simon Vance, delivers a deep examination of God, Soul, universal connectivity, equanimity, community, justice, love and even diplomacy. Although I've been an Anne Rice fan for nearly forty years, I did not realize The Vampire Chronicles embodied the internal and external components of a modern morality play until I heard them performed by Mr. Vance. Each of the twelve volumes grinds the characters through grief, physical and psychic pain no mere human could ever survive, thus the vampire, immortal metaphor. Prince Lestat gives us both male and female response to the tribulations and agony of life in 'the savage garden.' I've read and listened to the Vampire Chronicles many times and feel strongly that Prince Lestat and the Realms of Atlantis is, without doubt, her best work yet.
If you are looking for blood and guts gratuitous violence, you won't find it here. Violence is the amazing artistic device she uses as pivotal events to change everything you've experienced up until that point. If you love beautiful writing, you will love this book.
Review 3: Prince Lestat and the Realms of Atlantis audiobook by Bob-o
Not her best, but still very good.
Most of Anne's books have more action than this one. The writing style, in my opinion is more like her Mayfair books, but entirely in the vampire world. There were lots of discussions about concepts, new charicters, and the world of Atlantis. The full cast of characters are there, but not everyone has a speaking role. Overall I enjoyed it. Simon Vance did an excellent job! I have mixed opinions about him. He is sometimes mediocre, and puts me to sleep with his sing song cadence, or he does such fantastic job that he can make an awful book seem better than average.
Audiobookss audio player
Hi everyone, please be noticed that the Audio player doesn't play next track on IOS version < 15.6. If you are facing that issue, just upgrade your IOS to version 15.6 to fix it. Enjoy!