The Voyage of the Dawn Treader is the fifth book in The Chronicles of Narnia series by author C. S. Lewis. Lucy and Edmund, stuck with their terrible cousin Eustace, suddenly find themselves in the image of a sailing ship. Dawn Treader realizes that they have been dragged back to the land of Narnia. They are reunited with their old friend the young King Caspian and Reepicheep, the mouse on a journey to explore the End of the World.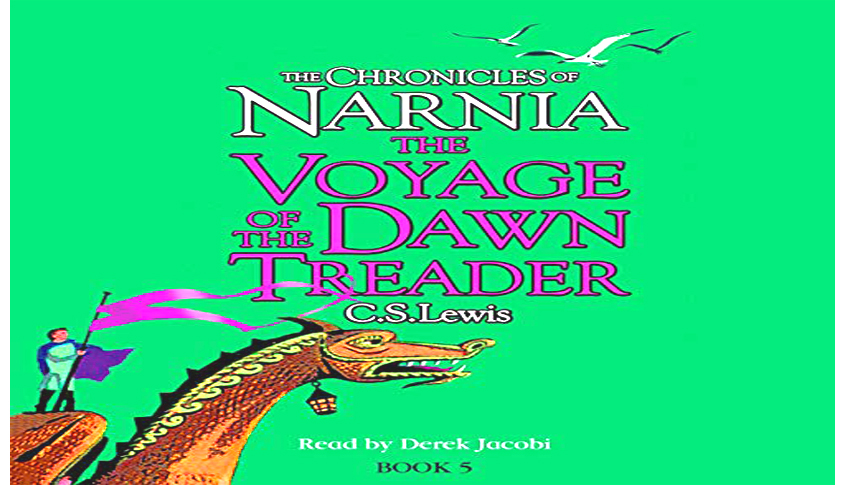 Here are the top 3 reviews and comments that readers love about this fascinating book.
Review 1: The Voyage of the Dawn Treader audiobook by Ray Cocke
An up and down story of adventures
The performance was great, as always. I'm easily impressed as you can tell by my previous reviews.
The story was an emotional rollercoaster coaster for me. Nothing extreme of the sorts but more a range between "jaw droppingly exciting" to "a bore".
Multiple adventures towards a single goal is all I can say without spoiling anything. The books cover will that you that much with a picture of a ship sailing the vast ocean.
Overall, an enjoyable book. One of the most heart warming of the series.
Review 2: The Voyage of the Dawn Treader audiobook by S. Lovejoy
As a fan of C.S. Lewis's writing, I must confess to no small bias.
This is either the third or fourth book in the Narnia series, depending upon how you count. As such it is much easier to follow after reading the first few books in the series.
Overall, this and the other stories hold up well. A few things might need explaining to American audiences ("torch" means "flashlight"), and the analogies might be missed. There is a certain amount of predictability and Deus ex Machine (Aslan ex Machina?)
The story starts with Lucy and Edmond staying with their Aunt & uncle and know-it-all prat cousin, Eustace. As usual, they are transported to Narnia, or at least into that world 's ocean very near a Narnian ship. They meet up with some friends of Lucy and Edmond and join in their exploration and adventures.
Review 3: The Voyage of the Dawn Treader audiobook by Michael G Kurilla
The Voyage of the Dawn Treader is CS Lewis' 3rd installment in the Narnia by publication release. In this episode the two younger siblings, along with an annoying relative are transported to Narnia to assist King Caspian in an adventure to hunt down his father's loyal aides who were sent away by his wicked uncle. The trek takes them to many unknown islands. Along the way, they either find the lost lords or their remains. The annoying relative learns some valuable life lessons. Aslan makes his usual just when he's needed appearances. And there's a dragon.
Audiobookss audio player