Vortena: Everybody Loves Large Chests, Volume 3 is a humor and satire fiction novel authored by Neven Iliev. It is based on the tropes of beloved RPG games. It is the 3rd book of the series – Everybody Loves Large Chests – and is followed by Morgana. You can also check out Teresa: Everybody Loves Large Chests (Vol.5).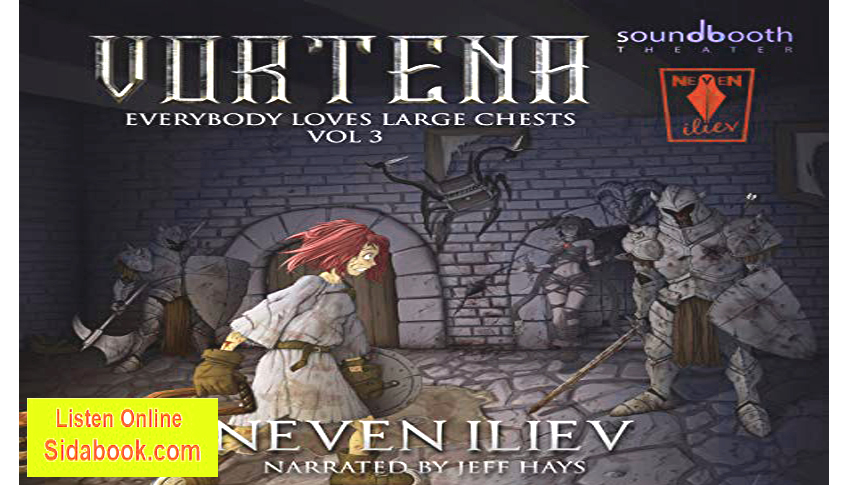 Jeff Hays has given us nothing less than a masterpiece as the narrator of this audiobook. He provides depth and diversity to the characters with ease. There is no exaggeration in saying that audiobook narration doesn't get any better than this.
We get to know what happens when one takes a murderous psychopath and teams them up with a cowardly tinkerer in this novel. This is a question that Jeremiah never expected to answer. He was nonetheless interested to see what the duo would end up cooking. Success or failure was irrelevant to Richard, only that the journey should be entertaining.
Things are different for the one under Tom's care. Boxxy is going up against a world of adversity and uncertainty – lacking the usual backup, tasked with an obtuse and incredibly vague quest, stuck in the monster-infested wilderness, and hunted by the Empire's top brass. Still, this is nothing new, because suffering, loss, and pain are things that have been commonplace since day one.
Boxxy isn't completely undaunted. However, it is also eager to share the valuable lessons with the new "companion". With shiny and tasty things n the line, the killer has every intention to show that lich who's the boss.
What started as a joke is turning into a fantastic series. This literature RPG novel doesn't hold back at all when taking shots at its own characters.
#audiobook, #online, #bestseller, #Literature & Fiction
Audiobookss audio player