The Wind-Up Bird Chronicle A Novel – Audiobook Online
The Wind-Up Bird Chronicle is a novel written by Japanese author Haruki Murakami.
The narrative begins with Toru Okada, an unemployed man in his early thirties, living in Tokyo with his wife Kumiko. One day, their cat mysteriously disappears, setting off a chain of events that lead Toru into a strange and enigmatic world. As he searches for his missing cat, he encounters a series of eccentric characters who each have their own unique stories to tell.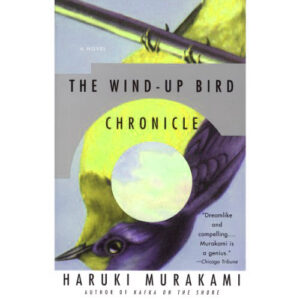 One of the central themes in the novel is the exploration of identity and self-discovery. Toru's search for his missing cat becomes a metaphorical quest to understand himself and his place in the world. As he delves deeper into the mysteries surrounding his own life, he begins to question his own identity and confronts suppressed memories from his past.
Throughout the novel, Murakami employs elements of magical realism and surrealism to create a dreamlike atmosphere. The boundaries between reality and fantasy blur as Toru encounters strange occurrences and enters parallel worlds. These fantastical elements serve to highlight the underlying themes of alienation, loneliness, and existential crisis that permeate the narrative.
Another significant aspect of The Wind-Up Bird Chronicle is its exploration of historical events and their impact on individuals. The novel delves into Japan's dark past, particularly focusing on the atrocities committed during World War II. Murakami weaves historical accounts into the narrative, shedding light on the lingering trauma and guilt that continue to haunt contemporary society.
The Wind-Up Bird Chronicle is also notable for its complex and multi-layered storytelling. Murakami employs various narrative techniques such as shifting perspectives, non-linear storytelling, and the use of multiple storylines. These techniques contribute to the novel's intricate structure and allow for a deeper exploration of its themes.
In addition to its thematic depth, The Wind-Up Bird Chronicle is praised for its rich character development. Toru Okada is a deeply introspective and relatable protagonist, and his interactions with the diverse cast of supporting characters add depth and complexity to the story. Each character has their own unique backstory and motivations, contributing to the overall richness of the narrative.
Overall, The Wind-Up Bird Chronicle is a thought-provoking and immersive novel that delves into themes of identity, memory, history, and the human condition. Murakami's masterful storytelling and blending of reality and fantasy create a captivating reading experience that has resonated with readers worldwide.
A "dreamlike and riveting" road trip (Chicago Tribune)—a startlingly imaginative detective story, the story of a broken marriage and the unearthing of buried secrets from war. Japan's forgotten epidemic in Manchuria during World War II.
On the outskirts of Tokyo, a young man named Toru Okada is searching for his wife's missing cat—and later his wife as well—in an underworld beneath the city's peaceful surface. When these searches intersect, he encounters a strange group of allies and rivals. Compelling, prophetic and filled with humor and menace, this is one of Haruki Murakami's most acclaimed and beloved novels.
Audiobookss audio player
Hi everyone, please be noticed that the Audio player doesn't play next track on IOS version < 15.6. If you are facing that issue, just upgrade your IOS to version 15.6 to fix it. Enjoy!