Heaven's Keep is the ninth novel in the Cork O'Connor series by author William Kent Krueger. Brave hero Cork O'Connor faces hardship when a charter plane carrying his wife, Jo, goes missing in a snowstorm over the Wyoming Rockies. Cork travels to Wyoming agreeing to investigate to find the whereabouts of his wife Jo.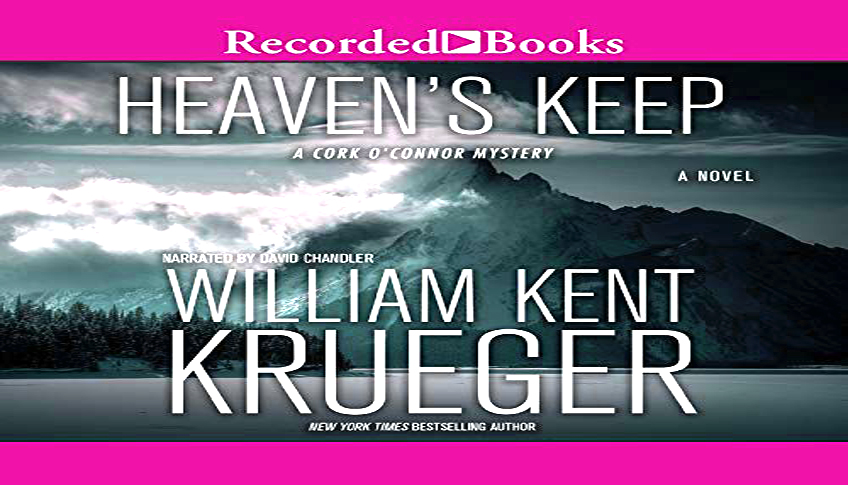 Here are the top 3 reviews and comments that readers love about this fascinating book.
Review 1: Heaven's Keep – Cork O'Connor Book 9 by Reademandweep
Not my favorite – Cork O'Connor is changing
One of the things I liked so much about the series when I got hooked was the small town vibe – the family, the live in sister, the wife, the kids the local people. Unfortunately, Cork is changing. He is now leaving most of what made him heartwarming behind. He is now becoming more of a loner, private Eye. In other words, he's becoming like almost every other whodunit book out there. He's losing what made him unique.
I'm not sure why authors do that. Sherlock Holmes never changed. We don't want them to change. This is not a reality show. Characters do not have to age and die. That's the nature of fiction.
" if it ain't broke, why fix it?"
David Chandler's narration is A+ as usual.
I can't say I recommend this particular book in the series. And I'm not sure I will be buying any more. As I say, for me the character and plots are lacking humor, humanity and originality.
Review 2: Heaven's Keep – Cork O'Connor Book 9 by Bergerhoo
A heart wrenching store
Seldom do books squeeze my heart with a grip strong enough to wring tears from my eyes, but this story did just that.
Unfortunately the narration is not at the same level as the writing. It's frustrating to hear countless mispronunciations of the name Bodine, and as simple a word as saguaro, the cactus. The descriptive narration was too slow and stilted, but increasing the reading speed helped. The speech of the character voices all too often comes off snarky, or sarcastic instead of simply reading the way real people talk. This kind of narration can make it difficult to like the characters at times.
But overall, the storyline is good enough to overcome this issue if a person chooses to listed on Audible, instead of actually reading the story
Me. Krueger's writing and storytelling skills are extraordinary.
Review 3: Heaven's Keep – Cork O'Connor Book 9 by Debbie
Not the Old Cork
This is the ninth book in the series from an author that I usually love and respect. The book is okay, but some things in it bother me. First of all it opens with Cork applying for the job of deputy to help him fight off a land grab for his property. In that interview, he clearly states that he will not carry or use a gun again. What??? A law officer unwilling to use a weapon? Then after his wife's plane goes down and Cork finally gives up on finding her, he brokers a deal with the very man that was trying to buy that land and becomes best buddies. I get that people change, but that's pretty quick to turn and team up with a man he has loathed for years. The story is missing the same feel of the past books, too. Part of that is because it takes place mostly in Wyoming where the plane went down, but more of it is the changes in Cork himself. He breaks his own rules without explanation. It seems as if William Kent Krueger has added content in order to be politically correct, which is a shame. I don't know that I will continue the series.
free audiobook,free audiobook app,free audiobook websites,free audiobook downloads,free audiobook sites
Audiobookss audio player
Hi everyone, please be noticed that the Audio player doesn't play next track on IOS version < 15.6. If you are facing that issue, just upgrade your IOS to version 15.6 to fix it. Enjoy!