The Wife Between Us By: Greer Hendricks, Sarah Pekkanen
The Wife Between Us is a psychological thriller novel written by Greer Hendricks and Sarah Pekkanen. The story revolves around the complex relationship between three main characters: Vanessa, Richard, and Nellie.
Vanessa Thompson is the ex-wife of Richard Thompson, a wealthy and successful businessman. She is struggling to move on from their failed marriage and is consumed by bitterness and jealousy towards Richard's new fiancée, Nellie. Vanessa becomes obsessed with Nellie, determined to uncover her secrets and prevent her from marrying Richard.
Nellie, on the other hand, is a young woman who falls deeply in love with Richard. She is portrayed as naive and innocent, unaware of the dark past that Vanessa shares with Richard. As the story progresses, Nellie begins to question her relationship with Richard and starts to uncover unsettling truths about him.
The narrative of The Wife Between Us is filled with twists and turns, keeping readers guessing until the very end. The authors skillfully manipulate the readers' perceptions and expectations, leading them down one path only to reveal a completely different truth later on.
One of the major themes explored in the novel is the complexity of relationships and the hidden depths within individuals. The authors delve into the psychology of love, obsession, and manipulation, creating a suspenseful atmosphere throughout the book. The characters are multi-dimensional, each harboring their own secrets and motivations.
The writing style of Hendricks and Pekkanen is engaging and fast-paced, making it difficult to put the book down. They employ alternating perspectives between Vanessa and Nellie, allowing readers to see events from different angles and adding layers of intrigue to the story.
Overall, The Wife Between Us is a gripping psychological thriller that explores themes of love, betrayal, and identity. With its unpredictable plot twists and well-developed characters, it keeps readers on the edge of their seats until the final page.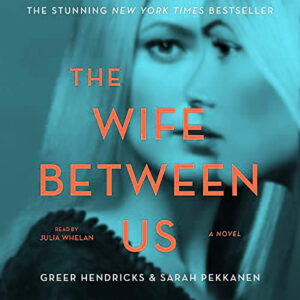 From Greer Hendricks and Sarah Pekkanen comes the next horror hit on audiobook, an instant New York Times bestseller!
When listening to this audiobook, you will make many assumptions.
You'd think you were hearing a story about a jealous ex-wife. You'd think she'd be obsessed with her replacement – a young, beautiful woman about to marry a man they both love. You'd think you know the anatomy of this tangled love triangle. Assume nothing.
Twisting and utterly compelling, The Wife Among Us exposes the secret complications of an enviable marriage – and the dangerous truths we ignore in the name of love.
Listen to the truth amidst the lies.
The first narrator is 27-year-old Nellie, a woman who got engaged a few weeks before her wedding. She is happy to have found the perfect man. Richard, nine years older than her, is wealthy, sophisticated, and very infatuated with her. He is not only her protector but also extremely thoughtful and romantic. He thought of everything and always seemed to be there whenever she needed him. Is he too good to be true? That's what roommate Samantha is starting to think…
The second narrator is Vanessa, a woman trying to recover from a broken marriage. Her husband Richard left her for a younger woman. And somehow he ended up getting all the money, the house, the car, and all their friends. Vanessa is staying in her aunt's spare bedroom and working as a salesperson at a large department store in NYC where she used to shop. Begin to create a connection between the two narrators?
Audiobookss audio player
Hi everyone, please be noticed that the Audio player doesn't play next track on IOS version < 15.6. If you are facing that issue, just upgrade your IOS to version 15.6 to fix it. Enjoy!