Reaper: Ghost Target is the first literary fiction novel in the Reaper series by author Nicholas Irving. The story is about Vick "The Reaper" Harwood, a highly regarded sniper with a record number of kills: 33 kills in 90 days.
He was knocked down under a mortar attack in Afghanistan. He wakes up in the United States with little memory, he goes back to his past memories.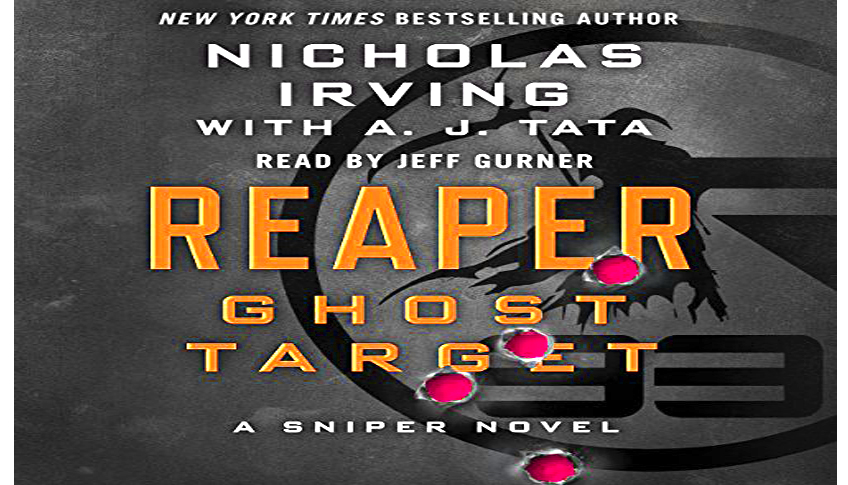 Here are the top 3 reviews and comments that readers love about this fascinating book.
Review 1: Reaper: Ghost Target audiobook by shelley
Too much knowledge CAN be Hazardous to your Life!
You might see this book and think "Wow, a sniper book written by a sniper!" Except this book is so much more then that. This is a military/mystery/thriller/suspense with the protagonist (Vic Harwood) being a sniper! This book is super fast paced with plenty of action.
While in Afghanistan he believes his spotter was killed and he was knocked unconscious. He has no memory of what happened but since back in the states some strange things have begun to happen. His girlfriend was expected to give a presentation and never showed. She also hasn't answered any of his text messages. He thinks someone has been slipping some kind of drug into the bottles of drink he likes. He realizes that he has periods he doesn't remember it seems to be happening after he has one of his sports drinks.
The next thing he knows two generals are assassinated and he's being sought as a person of interest. He knows he's being framed but has no idea who or why. Meanwhile because of social media his picture is all over the internet and his face is recognized every where he goes. When he rescues a 14 year old prostitute from rape and murder even she recognizes him and can't wait to tell people all about him.
But Harwood's memory starts coming back and people are scared. Harwood knows too much about drug and human trafficking out of Afghanistan and who's behind it.
Jeff Gurner does an outstanding job narrating.
This book has my HIGHEST RECOMMENDATION!!
If you found this review helpful please indicate so.
Thank You.
Review 2: Reaper: Ghost Target audiobook by Hey AK
I always rate, but have never reviewed…
…until now. Nicholas, you hit a home run with your first fiction! I hope you're working feverishly on book two, as I write this review. I can hardly wait to see what happens next! This book gripped me from the start. I stayed up into the wee hours of the morning listening; I just couldn't put it down. In spite of a very heavy workload at the office, I found a way to finish this book within 24 hours. Great story, well written, loved the characters and Jeff Gurner's narration was superb! I highly recommend reading/listening to Ghost Target. Do yourself a favor, use the credit and get this book now! You'll be glad you did.
Review 3: Reaper: Ghost Target audiobook by stuartjash
Great debut thriller fiction by Irving
The only thing that kept me from giving the narrator 5-stars was that he mispronounced the contributing authors name! Other than that, a fast-paced novel that I flew through!
Audiobookss audio player