Reaper: Threat Zero is the second novel in the Reaper series by author Nicholas Irving. A youth convoy carrying several members of the President's family to Camp David for "Family Day" was ambushed, killing and wounding husbands, wives, and children.
Vick Harwood views a Facebook feed about his former ranger friend Sammie Samuelson's suicide. Harwood goes to Thurman to investigate a suicide, looking for evidence left behind by Sammie Samuelson.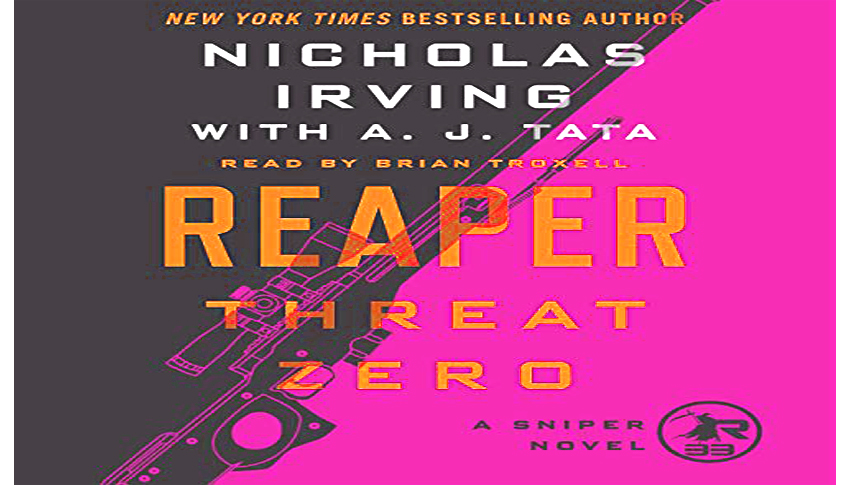 Here are the top 3 reviews and comments that readers love about this fascinating book.
Review 1: Reaper: Threat Zero – Reaper Book 2 by shelley
Adrenaline charged conspiracy…
When over twenty people are murdered at Camp David it is deemed a terrorist attract. The ambushed people included presidential cabinet members and secret service. Within minutes a live video is broadcast of Vick Harwood's friend and spotter taking his own life. Within hours Vick's friend (Sammie) is implicated in the attack.
Shorty after, a man in tactical gear breaks into Harwood's home and tried to kill him. Harwood is also known as the Reaper for his many sniper kills. One little guy is not going to take him down.
Was all of this for one target with the rest collateral damage or was everyone there actually supposed to die? And is it foreign or domestic?
Harwood is then sent on a bogus revenge mission not knowing that he too is a target. Harwood's adopted daughter is also targeted in order to get to him.
All the while Vick doesn't believe Sammie killed himself nor that he would commit this crime.
Back in the states Vick teams up with Sammie's sister but street and traffic cameras make it almost impossible for them not to be found.
Add in some underhanded politicians and gang members and what you have is an action packed nonstop conspiracy that keep you on the edge from beginning to end.
Brian Troxell does an outstanding job narrating.
This book has my HIGHEST RECOMMENDATION.
If you found this review helpful please indicate so.
Thank You.
Review 2: Reaper: Threat Zero – Reaper Book 2 by bringdapain
Vick Hardwood is Captain America's hero & role model
Finally a main character that looks like me that is an all around bad machine with an impeccable moral compass. Vick Hardwood is the soldier, hero, protagonist that represents me.
Nicholas Irving is a top tier author that develops his characters, stories, and incorporates today's technology and societal ills of America. His story pacing is perfect! Never a dull moment and the drama is just right. At times a tear can be extracted as I'm listening to some of the events and situations of the characters.
Mr. Irving please keep the stories coming!
Oh, the narrator was excellent too. His accent for a couple of the characters made me chuckle, especially broken nose man.
Not only a strong black man with strong morals, mental toughness and discipline, all of the women were strong capable women, from the teenager to the antagonist.
Mad props to the author and narrator.
Review 3: Reaper: Threat Zero – Reaper Book 2 by YukonJack
Another stunningly good thriller in the series. The story starts with a convoy of the President of the United States cabinet members family members are slaughtered. Vic Harwood aka The Reaper is told the President is sending him to kill the families of the terrorist families. A senator with high political ambitions is behind it all. It's hard to explain more without giving it away. If you like this genre, READ THIS !
Audiobookss audio player